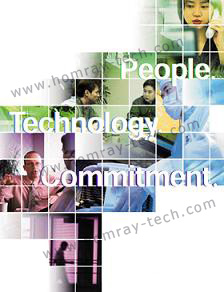 "Lighter, Smaller and Thinner", a new slogan in the digital world nowadays. More and more improved digital display products require more precise drive signals and higher resolution. Homray Micron Technology, founded in 2008, is a leading manufacturer for flexible drive IC substrate–COF (Chip On Film) Tape & COF Package IC & TAB IC. As one of the subsidiary company of Homray Industrial Limited, we are specialized in COF (Chip-On-Film) design & COF package IC & TAB IC for all types of COF module. Based on the professional COF tape fabrication process and strong COF TAB IC Package know-how, our dealers and partners are mainly distributed in Europe, USA, Southeast Asia, South America and Mid-east and our sales value exceeded 20 Million US dollars in 2013. Actually, COF TAB Package IC is a display module component developed from semiconductor package technology. Multifunctional digital device requires package chips with less weight and size but with higher performance. COF (Chip On Film) Package & COF Design meet the demands of the semiconductor packaging market for drive IC, it will become the major trend in the soon coming future.

We are the leading supplier of various Single layer COF Package IC & Double layer COF Film from 30μm to 100μm like COF IC for LCD, COF Film for PDA, COF IC for LED, COF IC for OLED, COF for Camera Module with excellent flexibility & reliability& folding endurance, which have won great reputation in LCM markets, Owning Internally Automated Quality Control System & ISO, ROHS Authoritative Criterion plus Outflow Prevention of fatal defects as our consistent quality guarantee, we won good feedback from our customers in the world . If customers want, COF-SMD Mounting & COF-Chip Bonding Total-Solution Service is also available. We have a great oversea R&D team working on new Semi-additive and build-up COF process development for super fine pitch COF device , our principle is to provide most advanced flexible drive COF IC & perfect service for our customers and make people's digital life more convenient and comfortable.

Our business philosophy is "Homray is dedicated to providing you with the best support" & "Customer satisfaction is always Homray's unremitting pursuit". In such a world with deteriorating environment and climate, we are also concentrating on the new micro-electronics technology that help us save energy resources to contribute to the human beings. We sincerely welcome friends from all over the world to cooperate with us. We do hope that our COF Film & COF IC TAB IC package service will help you win much more market share and fortune in the micro-electronics and LCM industry. Please contact us for more product and service details.